Ref:
Date:
Location:
Photographer:
Ref:
Date:
Location:
Photographer:
USA - New York........8th to 16th May plus extension to 21st May 2018
Central Park, Jamaica Bay & the Hudson Valley plus optional extension
The mention of New York does not immediately bring to mind one of the top birding areas in the USA, perhaps the thinking behind that is a belief that New York is a top venue for sightseeing and Christmas shopping only. However, New York State is a fantastic birdwatching region, including many excellent sites in and around the amazing NY City and also in other parts of the state. Our May tour encompasses Central Park, Jamaica Bay and the Lower Hudson River Valley. There is an optional extension of the tour to Washington County Grasslands and Saratoga National Park (famed for the Battle of Saratoga - War of Independence). Spring birding is absolutely top notch for migration and breeding species in this extremely large state, which lies in the centre of the "Atlantic Migration Flyway", with Central Park rated one of USA's premier birding sites. However, Central Park has a great supporting cast of superb birding venues, including, Staten Island, Bryant Park and Inwood Hill Park to mention just a few. Common resident species and regular spring visitors include Red-tailed Hawk, Eastern Screech Owl, Red-bellied Woodpecker, American Robin, Blue Jay, Hermit, Swainson's & Wood Thrushes, Veery, Scarlet Tanager, Indigo Bunting, American Goldfinch and Northern Cardinal. In springtime, a top day in Central Park can produce 20 plus species of gorgeous American wood warblers, including Ovenbird, Northern Parula, Blackburnian, Magnolia, Bay-breasted, Prairie, Black-throated Blue and Chestnut-sided Warblers.
A visit to specific sites in the Hudson Valley should reveal breeding Cerulean, Hooded & Blue-winged Warblers, Warbling Vireo, Pileated Woodpecker, Rose-breasted Grosbeak, Baltimore Oriole and Louisiana Waterthrush. At Jamaica Bay we should encounter breeding Ospreys & Night-Herons, egrets, migrating shorebirds, terns and masses of wildfowl. The optional extension to Saratoga N.P. and Washington County Grasslands, will offer us the opportunity to discover species such as Barred Owl, Yellow-bellied Sapsucker, Yellow-billed Cuckoo, Pileated Woodpecker and Orchard Oriole in Saratoga and Northern Harriers, Upland Sandpipers, Eastern Meadowlarks, Eastern Bluebirds and Bobolinks in the grasslands. Then of course there are New York's star tourist attractions – Times Square, The Lincoln Centre, Broadway and Grand Central Station.
Days 1-5: A morning flight to New York on Day 1 will be followed by a visit Central Park during the afternoon. We should see American Robin, Northern Cardinal, Blue Jay, Black-capped Chickadee, Tufted Titmouse, White-throated & Song Sparrows, American Goldfinch and numbers of migrants, including many warbler species, thrushes and vireos. During the following days we will make several visits to Central Park and also visit Jamaica Bay, where, we should see Brant, Blue-winged Teal, Black Duck, Osprey, Snowy Egret, Little Blue Heron, American Oystercatcher, Willet, yellowlegs, a number of migrating sandpipers, Caspian & Forster's Terns and Tree Swallows. Jamaica Bay also has habits of scrub and woodland where Song Sparrows, Eastern Towhees, warblers, orioles, vireos and other species are present. Visits to other New York City venues could include Staten Island, Inwood Hill Park, Bryant Park and other sites – the list is endless. Many of these locations record between 25 & 30 species of the American wood warbler family each spring, not forgetting such species as Yellow-billed Cuckoo, Veery, Hermit & Wood Thrushes, Warbling, Blue-headed, Red-eyed & Philadelphia Vireos, Baltimore Oriole and Scarlet Tanager!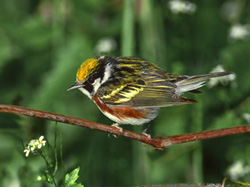 Days 6-7: On Day 6 we'll travel up-state to explore the Lower Hudson Valley's wonderful wooded escarpment. Firstly the Hudson River Valley should produce an array of breeding American wood warblers, including Cerulean, Kentucky, Blue-winged, Golden-winged & Hooded, as well as Rose-breasted Grosbeak, cuckoos, thrushes, vireos, tanagers and orioles. Late afternoon on Day 7 we'll return to New York City for an overnight stay.
Days 8-9: On Day 8 after birding in Central Park to catch up on the migrant situation, perhaps adding to our species tally with a late Blackpoll or Wilson's Warbler. In the late afternoon we'll catch our evening flight back to the UK, where we arrive on Day 9.
Extension:
Days 8-12: On Day 8 we'll transfer to Fort Edward, a delightful area, for 4 Nights, in order to visit Washington County Grasslands and Saratoga N.P. for a variety of grassland, woodland & wetland species. At Saratoga National Park we can enjoy a lecture on the War of Independence – the famous battle, which should have been won by the British, but was lost due to errors of judgement by General Burgoyne! Saratoga has a range of habitats – woodland, open grassland and wetland, which support a diverse avifauna. Breeding species include, Sharp-shinned & Red-tailed Hawks, Northern Harrier, American Woodcock, Barred Owl, Northern Flicker, Yellow-bellied Sapsucker, Downy & Pileated Woodpeckers, Great Crested Flycatcher, Eastern Phoebe, Grey Catbird, Swainson's Thrush, Eastern Bluebird, Warbling Vireo, Ovenbird, Blue-winged Warbler, Indigo Bunting, Scarlet Tanager, Field Sparrow, Bobolink, Blue-grey Gnatcatcher, Eastern Kingbirds, Eastern Meadowlark and Eastern Towhee. Migrant shorebirds regularly include, Lesser & Greater Yellowlegs, Solitary, Least, Semipalmated and Spotted Sandpipers. Washington County Grasslands support Northern Harriers, Upland Sandpipers, Short-eared Owls, Eastern Meadowlarks, Savannah Sparrows and Bobolinks amongst other species. We'll return to New York City during late afternoon on Day12 for an overnight stay.
Days 13-14: A good portion of Day 13 will be spent birdwatching in Central Park or if preferred an option to visit the City sightseeing. In the afternoon we'll transfer to the airport for our return flight to the UK, where we arrive on Day 14
Tour ref: AA1841

Main Tour Cost:
£3,290
Deposit:
£700
Single Room Supplement:
£725
Extension Cost:
£1,550 approx
Leader:
Gerry Griffiths & Peter Scholes
Max. Group:
12 plus 2 Leaders
Includes:
Economy class scheduled return flights (UK-New York-UK), accommodation based on twin occupancy, all meals, all ground transportation in USA and services of leaders.
Excludes:
Travel insurance, drinks and items of a personal nature.