Ref:
Date:
Location:
Photographer:
Ref:
Date:
Location:
Photographer:
USA - Texas in Winter ........ 12th to 22nd November 2017
The Rio Grande & Central Coast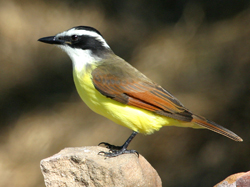 One of our longest-running birding destinations, Texas, continues to delight and amaze us with its variety and sheer numbers of birds.
The richest and most diverse biological area in North America is the 'Lower Rio Grande Valley' – a delta floodplain in South Texas, where ocean, river, neo-tropic and semi-desert meet, creating a unique environment, that supports an amazing array of fauna. The area has a number of wildlife refuges and world birding centres that provide a home to many bird species, some of which, can only be found in this part of the USA. The avifauna has a real Neo-tropical flavour and birds such as: Plain Chachalaca, Ringed Kingfisher, Golden-fronted Woodpecker, Great Kiskadee, Tropical Parula, Green Jay and Altamira Oriole are specialities of the region. Visits to reserves and wildlife refuges (NWR), such as: Santa Ana and Bentsen State Park will give us opportunity to observe this superb birdlife. Another fine reserve is Laguna Atascosa, which has abundant birdlife on its coastal lagoons. We will also venture further up the Rio Grande in search of Audubon's Oriole and desert scrub species such as Greater Roadrunner, Pyrrhuloxia, Verdin and Cactus Wren. Yet another highlight will be boat cruise into Aransas Bay looking for Whooping Cranes and a multitude of other species - a wonderful experience. If you've not been to Texas yet, come with us and see why we keep going back and why it is also a superb autumn/winter birding location!
Day 1: Scheduled flight from UK to Houston, Texas. We then drive to Conroe and if time permits visit W G Jones State Forest, where Blue Jay, Brown Thrasher, Pine Warbler, Northern Cardinal are present.
Overnight – Conroe
Days 2 & 3: The morning of Day 2 will be spent in W G Jones State Forest, which is excellent for woodpeckers, particularly Red-cockaded, Pileated & Red-bellied and also a wealth of other bird species. We then drive to Rockport in search of wetland and raptor species, including Roseate Spoonbill, Belted Kingfisher, White Ibis and White-tailed Hawk. A boat trip to Aransas NWR should reveal Whooping Cranes herons & shorebirds. Overnights- Rockport
Day 4: We drive to the Lower Rio Grande Valley visiting Aransas Bird Centre en route. This superb reserve has a marvellous boardwalk through marshland, where birdlife is abundant.
Overnight - McAllen
Days 5-8: Visits to the excellent reserves of the Rio Grande Valley, should reward us with observations of many of the area's specialities - Plain Chachalaca, Golden-fronted Woodpecker, Green Kingfisher Long-billed Thrasher, Great Kiskadee, Altamira Oriole, Green Jay and Buff-bellied Hummingbird. Laguna Atascosa & South Padre Island support a wealth of wetland species, amongst many waders and shorebirds are Reddish & Great Egrets, White-faced Ibis, Piping Plovers, American Avocets, Western Sandpipers and Clapper Rail. Travelling further along the Rio Grande, will give us the opportunity to see desert species – Greater Roadrunner, Cactus Wren, Verdin, Pyrrhuloxia & Black-throated Sparrow and in riverside scrub perhaps the elusive Audubon's Oriole.
Overnights – McAllen
Day 9: Drive from Rio Grande Valley to Sugarlands, with birding en route.
Overnight - Sugarlands
Day 10: After birding Brazos Bend State Park, we'll catch our flight from Houston to UK, arriving on Day 11.
Tour ref: AA1745

Cost:
£2,450
Deposit:
£500
Single Room Supplement:
£165
Leaders:
Neil Glenn as Principal Leader
Max. Group:
14 plus 2 Leaders
Includes:
Economy class scheduled return flights (UK-Houston-UK), accommodation based on twin occupancy, all meals, ground transportation in Texas, entrance fees to reserves and services of leaders.
Excludes:
Travel insurance, drinks and items of a personal nature.