Ref:
Date:
Location:
Photographer:
Ref:
Date:
Location:
Photographer:
Spain - Sierra Morena (Photographic)...........9th to 15th May 2018
Specialist bird photographic tour to Sierra Morena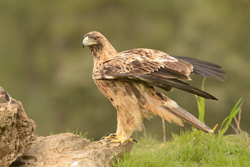 A highly successful tour in January 2017 in which all participants left with stunning images of Golden & Spanish Imperial Eagles as well as Eurasian Black & Griffon Vultures ensured a return to the uplands of the Sierra Morena in Southern Spain. This time we go in spring to target not only large raptors (it is possible Black-winged Kite will be available too) but also summer visitors and resident passerines such as European Bee-eater, Common Cuckoo, Golden Oriole, Iberian Green Woodpecker, Common Kingfisher, Eurasian Hoopoe, Azure-winged Magpie, Common Crossbill, Hawfinch and a range of commoner species such as European Nuthatch, tits, including Crested Tit, warblers and finches.
This tour is designed for specialist bird photographers and utilises a series of commercial hides (baited with dead rabbits for the two eagle and vulture species) carefully chosen to maximise opportunities to photograph a wide cross-section of species at close range. Most 'all-day' hides seat three photographers, are in fixed positions, reasonably roomy and offer simple toilet facilities. Single person hides (arranged in twos or threes) operate for certain species including Common Cuckoo, Common Kingfisher and Eurasian Hoopoe. Photo distances range from 3 (passerines) to 40 m (raptors) suitable for a 300 mm lens with or without a converter (extender). On site there will be Canon 300 (f2.8), 400 (f2.8), 500 (f4) and 800mm (f5.6) lenses available for photographers' use free of charge. The eagle hides require photographers to remain in the hides for the whole day (up to ten hours) as it is essential as little human disturbance occurs as is possible. This tour not only provides an unrivalled opportunity to photograph Spanish Imperial Eagle, one of the world's rarest raptors, but takes participants into the territory of Spanish Lynx, although one has to be fortunate to see them.
Day 1: Morning flight to Seville and transfer to the Sierra Morena, north-east of Córdoba, a drive of approximately one-and-a-half hours. There should then be time for a short drive to familiarise participants with the terrain and photographic conditions.
Days 2-6 will be fully occupied with photography from the hides. There will be a mixture of half-day and all-day photographic sessions and sufficient time has been allowed for repeat visits in most instances. Accommodation is in a simple but pleasant hotel with clean facilities, en suite rooms and free wi-fi located within half-an-hour's drive of all the hides.
Day 7: Transfer to Seville for return flight to U.K.
Tour ref: AA1806

Cost:
£1,945
Deposit:
£400
Single Room Supplement:
£TBA
Leader:
Ray Tipper
Max. Group:
6 plus leader
Includes:
Economy class return flights (UK-Seville-UK), accommodation, meals, transportation in Spain, use of specialist photographic hides and services of leader.
Excludes:
Travel insurance, drinks and items of a personal nature.